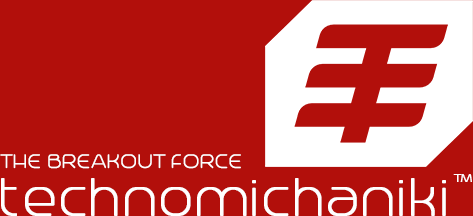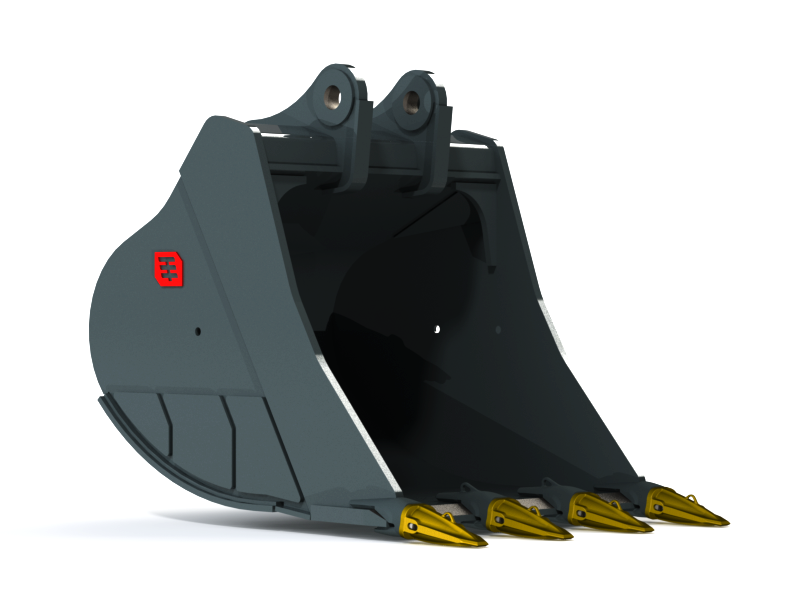 INFORMATION
.
Severe duty (SD) design for digging and loading high abrasion rocky materials.
.
Created to satisfy all customer needs, guaranteeing maximum reliability and long service life.
.
Available for all excavator models and for all engagement systems (direct coupling, quick coupling) preserving their kinematics.
.
SPECIFICATIONS
.
Made of HARDOX 450 for higher wear resistance
.
Entirely made of HARDOX 450 for higher flexibility
.
Made of structural steel S355J2+N (DIN ST52-3N)
.
Sidewall reinforcements and bottom strips made of HARDOX 450
.
According to customer needs
.
The product pictures are indicative; for different machine classes or latest models may differ in shape and size.
TECHNICAL DATA
| Product Code | Width (mm) | Capacity (L) * | Weight (kg) ** | Teeth | Teeth System |
| --- | --- | --- | --- | --- | --- |
| | | | | | |
| | | | | | |
| | | | | | |
| Weight Class: 31 to 38 tons | | | | | |
| --- | | | | | |
| HE35.B-EX.SDR_1050 | 1050 | | | 4 | J460 / U45 / MA50 |
| HE35.B-EX.SDR_1350 | 1350 | | | 4 | J460 / U45 / MA50 |
| HE35.B-EX.SDR_1500 | 1500 | | | 5 | J460 / U45 / MA50 |
| HE35.B-EX.SDR_1650 | 1650 | | | 5 | J460 / U45 / MA50 |
| | | | | | |
| | | | | | |
| | | | | | |
| Weight Class: 38 to 43 tons | | | | | |
| --- | | | | | |
| HE40.B-EX.SDR_1350 | 1350 | | | 4 | J460 / U45 / MA50 |
| HE40.B-EX.SDR_1550 | 1550 | | | 5 | J460 / U45 / MA50 |
| HE40.B-EX.SDR_1650 | 1650 | | | 5 | J460 / U45 / MA50 |
| HE40.B-EX.SDR_1700 | 1700 | | | 5 | J460 / U45 / MA50 |
| HE40.B-EX.SDR_1900 | 1900 | | | 6 | J460 / U45 / MA50 |
| | | | | | |
| | | | | | |
| | | | | | |
| Weight Class: 43 to 55 tons | | | | | |
| --- | | | | | |
| HE50.B-EX.SDR_1450 | 1450 | 2466 | 2290 | 4 | J550 / U55-60 / MA60 |
| HE50.B-EX.SDR_1550 | 1550 | 2681 | 2380 | 4 | J550 / U55-60 / MA60 |
| HE50.B-EX.SDR_1650 | 1650 | 2895 | 2555 | 5 | J550 / U55-60 / MA60 |
| HE50.B-EX.SDR_1850 | 1850 | 3324 | 2730 | 5 | J550 / U55-60 / MA60 |
| HE50.B-EX.SDR_1950 | 1950 | 3539 | 2905 | 6 | J550 / U55-60 / MA60 |
| | | | | | |
| | | | | | |
| | | | | | |
| Weight Class: 55 to 70 tons | | | | | |
| --- | | | | | |
| HE65.B-EX.SDR_1800 | 1800 | | | 5 | J700 / U60 / MA120-180 |
| HE65.B-EX.SDR_1900 | 1900 | | | 5 | J700 / U60 / MA120-180 |
| HE65.B-EX.SDR_2000 | 2000 | | | 5 | J700 / U60 / MA120-180 |
| HE65.B-EX.SDR_2100 | 2100 | | | 5 | J700 / U60 / MA120-180 |
| HE65.B-EX.SDR_2200 | 2200 | | | 5 | J700 / U60 / MA120-180 |
| | | | | | |
| | | | | | |
| | | | | | |
| Weight Class: 70 to 91 tons | | | | | |
| --- | | | | | |
| HE85.B-EX.SDR_2300 | 2300 | | | 5 | J800 / U80 / MA240 |
| HE85.B-EX.SDR_2400 | 2400 | | | 5 | J800 / U80 / MA240 |
| HE85.B-EX.SDR_2500 | 2500 | | | 5 | J800 / U80 / MA240 |
| | | | | | |
| | | | | | |
| | | | | | |
| --- | | | | | |
| * Capacity based on ISO 7451 | | | | | |
| ** Weight include tips | | | | | |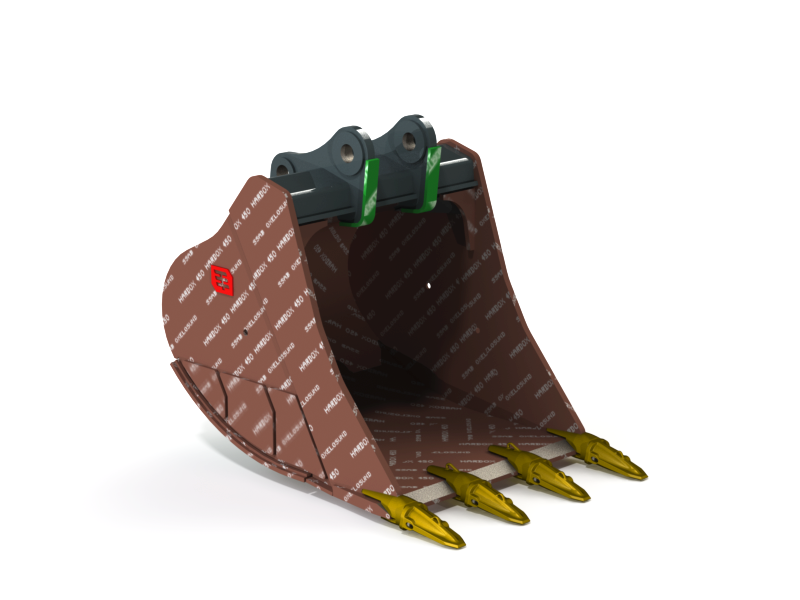 ISOMETRIC VIEW – FRONT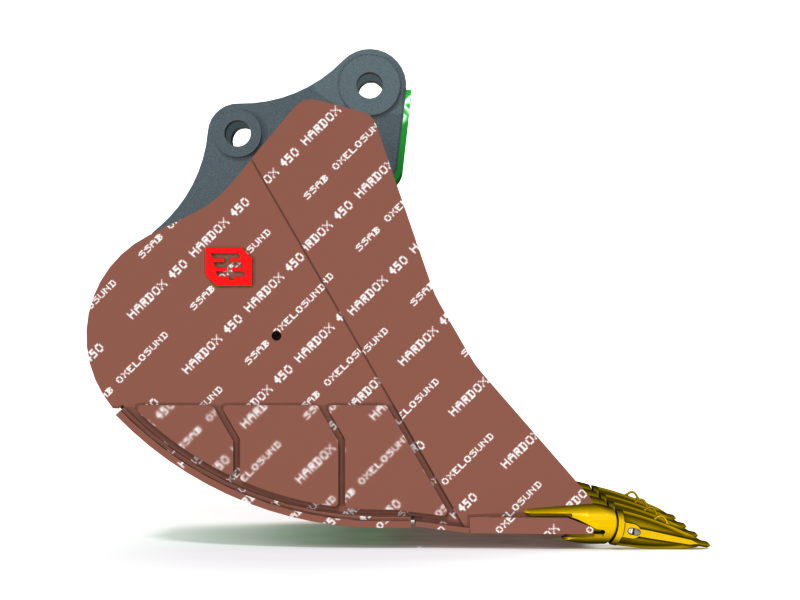 ISOMETRIC VIEW – REAR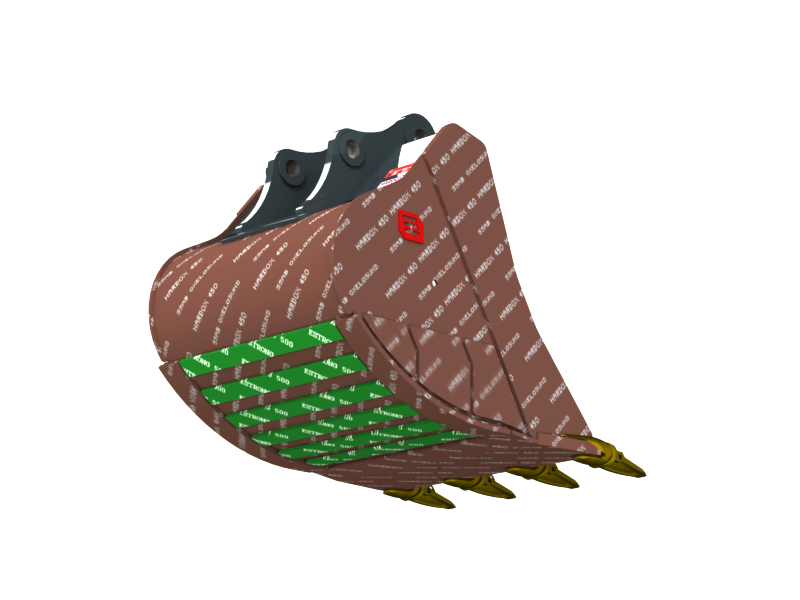 SIDE VIEW